Otrokovicko region
Project " Assessment of elevated contents of Hg and other heavy metals within Flysh Belt in the area Otrokovice – Uherský Brod – Starý Hrozenkov " follows by its topic as well as methodical previous project. Implementation of project was performed in years 2009 – 2010.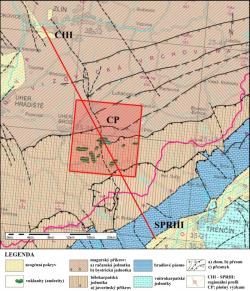 Area under interest is represented by research terrain of surface 192 km2 located within eastern vicinity of Uherský Brod city and by regional profile III: Otrokovice - Nezdenice – spot height Kykula – Melčice-Lieskové (lenght 47 km, of it 37 km in the Czech Republic and 10 km in Slovak Republic).

Within the Czech territory in total 125 stream sediment samples, 449 soil samples, 47 base of slope samples, 28 rock samples, 17 water samples and 41 samples of plants have been collected.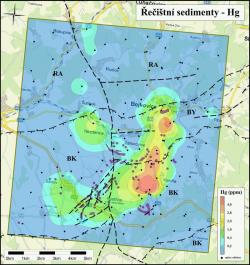 From all data evaluation resulted following facts:
Stream sediments
Geogene Hg anomaly was identified in the area of Bytřice pod Lopeníkem – Komňa – Bojkovice cities, related with Tertiary volcanites (trachyandesites, andesites, basaltes) with sulphidic mineralization. Very probable seems the redistribution of mercury into adjacent rock units of Bílé Karpary Unit. The highest value found there - 20,5 mg/kg - fourfold exceeds value of risk factor, defined in Ministry Decree.
Soils
Distribution of Hg is in fact similar to its distribution in stream sediments. Anomalous zone extends from Bystřice p. L. through margin of Komňa to the Bojkovice city and it is related with occurrences of Neogene volcanites.
Mercury anomalies were identified at Bučník locality, where high contents, reaching up to 20 mg/kg, follow fault zone of NE-SE direction. No other anomalies of element pathfinders are present. Very probably mercury is re-distributed from volcanic sources into the tectonically predisposed parts of Bílé Karpaty Unit.
Comparing with pollution standards listed in Ministry Decree No. 13/1994, permissible limits are exceeded in the case of Cd, Co, Cu, Hg, Ni and Zn. Mercury contents above limit were found at 11 sampling points, highest value reaching 20,98 mg/kg. Possible risk due to the high mercury contents was tested by means of sequential extraction analysis. Only small amount of mercury was found to be bound to soluble compounds (chlorides, sulphates). Prevailing amount (70 – 88%) is present in extremely insoluble sulphidic form, representing negligible risk for human health. Next, more detailed research is recommended in anomalous zone.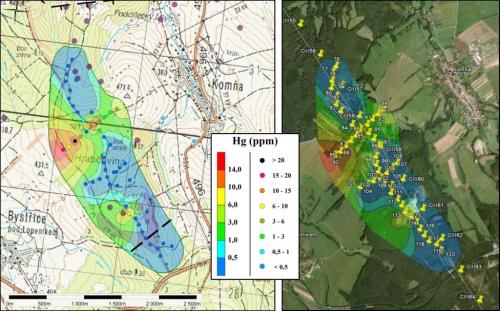 In total, eight stretches with anomalous element contents were identified along profile III. Among them six are estimated as anthropogenic load, one as of natural origin (Bučník locality) and one with mixed origin (anthropogenic as well as natural). Among the most frequently identified pollutants belong Pb, As, Sb, Hg, Bi and Mo.
Water samples
No concentrations of any element exceeding pollution standards have been found in water samples. Taking into account fact that this is a question of spot sampling, weight of evidence of this information is low, thus regular monitoring should be carried out.