GEOLOGICAL MAPPING OF TRANS-ALTAI GOBI



Name of project:


Geological and geochemical mapping of Trans-Altai Gobi on the scale of 1:200000
Project sponzor: Ministry of Environment of the Czech Republic and Development Agency of Ministry of Foreign Affairs
Contractor: GEOMIN company Jihlava
Project manager: Jiří Šourek
Counterpart organizations:
Office of Geological Investigation, Ulaanbaatar, Mongolia
Central Geological Laboratory, Ulaanbaatar, Mongolia
Geological Information Center, Ulaanbaatar, Mongolia
Geological Institute of Academy of Science, Ulaanbaatar, Mongolia
Co-operating institutions:
Czech Geological Survey
Faculty of Natural Sciences, Charles University, Prague
Project duration: 1999 – 2003
Project was funded in the frame of program of Czech Development Aid from the budget of the Czech Republic.
---
AIM OF PROJECT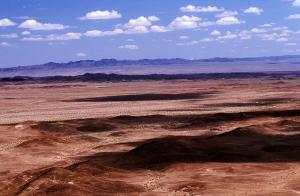 The aim of project was to evaluate basic geological information on geological structure, ore potential and hydrogeology conditions of Trans-Altai Gobi territory located within south-east Mongolia and having surface 36 015 km
2
. The field part of project consisted of geological and geochemical mapping of area covered by nine map sheets 1:200 000 and estimation of raw material potential, mainly of ore, of this territory.
SCOPE OF WORK AND RESULTS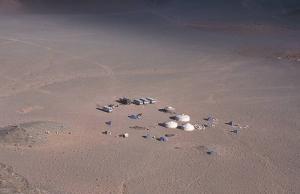 In total 5 827 alluvial samples, 7 294 silt samples, 407 samples for major oxides content analyses, 13 samples for age determination, 1278 samples for petrology study, 111 paleontologic samples and 286 samples for mineralogical analysis have been collected in the frame of this project. Besides total γ-activity and content of U, Th and K have been measured at each sampling site with portable γ-spectrometer.
Besides regional sampling detailed survey of selected areas have been carried out – 15 areas with showings of gold, platinum and base metals. All above mentioned data have been evaluated and interpreted.
PROJECT OUTPUT
The main output of project is comprehensive final report comprising large set of following maps on the scale of 1:200 000 compiled for each map sheet :
geological map
structural-tectonic map
geomorphological (exodynamic) map
map of distribution of selected heavy minerals from alluvial samples
map of geochemical anomalies in fine fraction of alluvial samples
map of geochemical anomalies in silt samples
radiometric map
hydrologic map
map of ore indicators (showings)
prognostic map of raw materials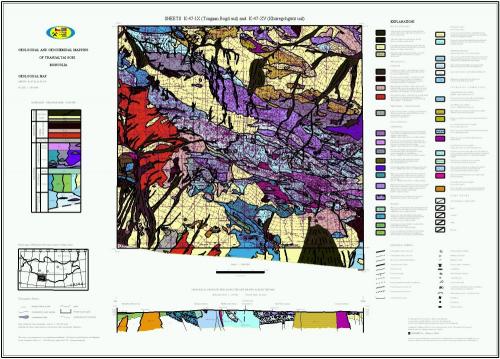 Besides detailed geological and geochemical maps of 15 selected areas have been also elaborated.